Posts tagged
WordPress
1
So admittedly I have been one of the most useless blogger's around over the past year. It has been an intense year after going it alone business wise. Now that the dust has settled on an amazing 2009 I have given myself some Christmas presents.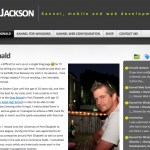 My blogging frequency is largely to blame on the hate for my previous wordpress theme, so in an effort to combat this…
Gift #1 – The blog update
So yes, I have updated my blog to the latest wordpress version and removed any in script hacks that I did previously and just moved to plugins to keep things simple. I must say, the wordpress platform has come a long way since my old blog and I am extremely impressed! In addition to this I 'refreshed' my about page to be a bit more relevant to where I am and what I'm up to now.
Gift #2 – The product site
I have developed quite a cool SMS gateway product (IMHO) but I have done absolutely no marketing for it thus far. I have just been distributing it via word of mouth and through connections of mine in the industry.
I decided it was time to release it into the wild and get a site up and running to spread the word, hence I have setup the site for Elite SMS Gateway. Yes, I know the name is a bit cheesy but my marketing creativity leaves much to be desired

Gift #3 – The photo blog
Those of you close to me, will know that I recently aquired a Canon EOS 7D and before I even received the camera I had planned on launching a photo blog. As they say about a panel beaters car, the same applied to my own personal blogs.

So finally I managed to get it up and running at www.badphotographer.com. I called it 'the bad photographer' as a play on the idea that there is no good or bad photography, it's all a matter of each person's tastes. I'd love to get some comments on this blog on the photos.
So that's it on the gift front, I am excited to keep the blogs moving and get a big of feedback from the community.
Have a safe festive season